Cabasse reveals THE PEARL SUB
CABASSE GIVES A NEW DIMENSION TO ITS HIFI SPEAKERS WITH THE PEARL SUB
The first 2.1-connected active subwoofer capable of delivering maximum dynamics, with deep bass, sound optimization for each speaker (DEAP technology), auditorium-class room correction and high-resolution streaming, adapted to its iO3, Riga 2 and Baltic 5 speakers!
After two successive years of innovation on the high-resolution HiFi connected speaker market with THE PEARL & THE PEARL AKOYA, Cabasse unveils THE PEARL SUB, a new 2.1connected active subwoofer that's part of its Lifestyle range, delivering incomparable feautres to its speakers (iO3, Riga 2 and Baltic 5) such as phenomenal dynamics, patented DEAP technology (optimizing the digital signal from Cabasse's 3 aforementioned speakers) and the ability to connect the speakers to popular streaming services (Qobuz, Deezer, Spotify, Napster, Tidal, etc.). Cabasse's latest innovation will be available in December 2020.
THE PEARL SUB is equipped with a 25 cm woofer featuring a linear excursion of up to 30 mm. It is powered by 2000 watts (peak) for a deep bass level. The acoustic performance is spectacular with exceptional bass dynamics. In addition to this, the satellite amplification (2×300 W), provides enough firepower to drive iO3, Riga 2, and even Baltic 5 speakers.
In addition to its power, THE PEARL SUB enables you to get the most out of its speakers via its patented DEAP* technology, which optimizes the digital signal according to which ones you have (Baltic, Riga or iO). This feature is easily accessible in 1 or 2 taps with the free StreamCONTROL application available for IOS and Android.
THE PEARL SUB does not stop there! It offers listeners a patented CRCS automatic room correction system for optimized acoustics whatever the listening environment. Everything has been thought out to transform your listening room into a real auditorium with a sound reproduction of unequaled richness and power.
A COMPACT DESIGN IN HARMONY WITH ITS SPEAKERS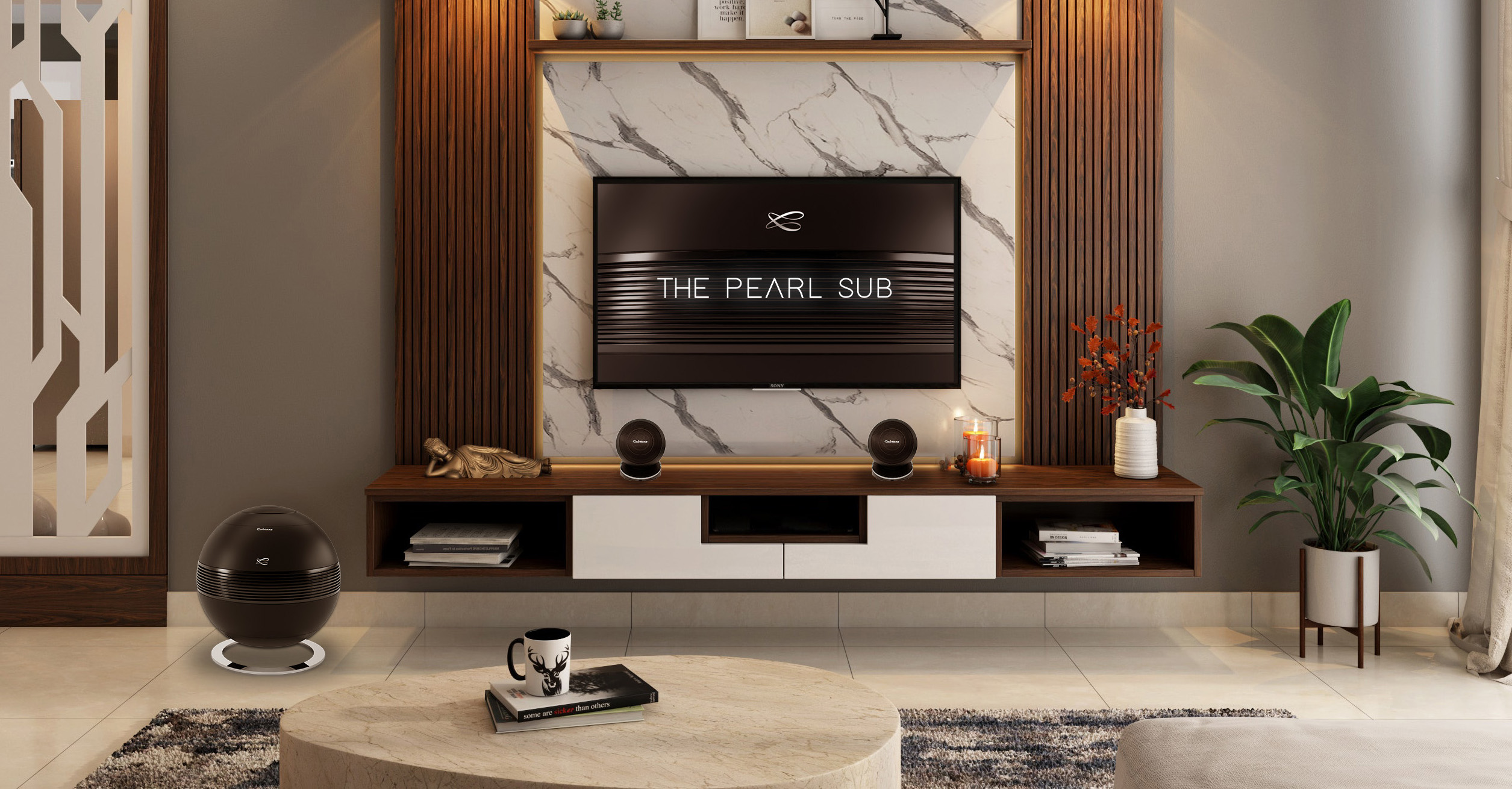 With its spherical shape that remains faithful to the style of THE PEARL collection, THE PEARL SUB certainly attracts attention with its noble materials. It has no less than 4 successive coats of matt paint to achieve a perfect rendering. The sphere is adorned with a silver ring, a reinforced double shell with a glossy finish, and a magnetic metal grid featuring the Cabasse logo.
To add an extra touch of elegance, THE PEARL SUB has a refined and suspended design and sits on a rough-cut, folded, and chrome-plated steel base to hold the subwoofer in the air. At the back, four carbon speaker connectors allow you to power speakers with up to 300 watts of nominal power. THE PEARL SUB also features Optical/RCA Analog/Ethernet and USB connectors.
A CONNECTED SUBWOOFER WITH MULTI-SOURCE AND MULTI-ROOM CAPABILITIES
THE PEARL SUB is equipped with Bluetooth and Wifi connectivity. It integrates perfectly into the Cabasse StreamCONTROL multi-room system and allows playback of all types of audio files: from MP3, AAC and WMA to ultra-high-definition AIFF, FLAC, and ALAC files whether they are stored on hard disks/computers, streamed from internet radio stations or from online music services (Qobuz, Deezer, Spotify, Napster, Tidal). THE PEARL SUB can also be voice-controlled and is compatible with Google Voice Assistant.
A BLUETOOTH REMOTE CONTROL WITH STYLE
THE PEARL SUB comes with its streamlined and ergonomically designed Bluetooth remote control with a refined finish. You no longer need to use your smartphone. This Bluetooth-connected remote control that fits in the palm of your hand, allows you to easily and intuitively control the subwoofer: adjust the volume by rotating the ring, select the input type, play and pause, and select a radio station or your favorite piece of music, etc.
FOR THIS RELEASE, CABASSE INTRODUCES NEW FINISHES AND STANDS FOR IO3, RIGA2 AND BALTIC 5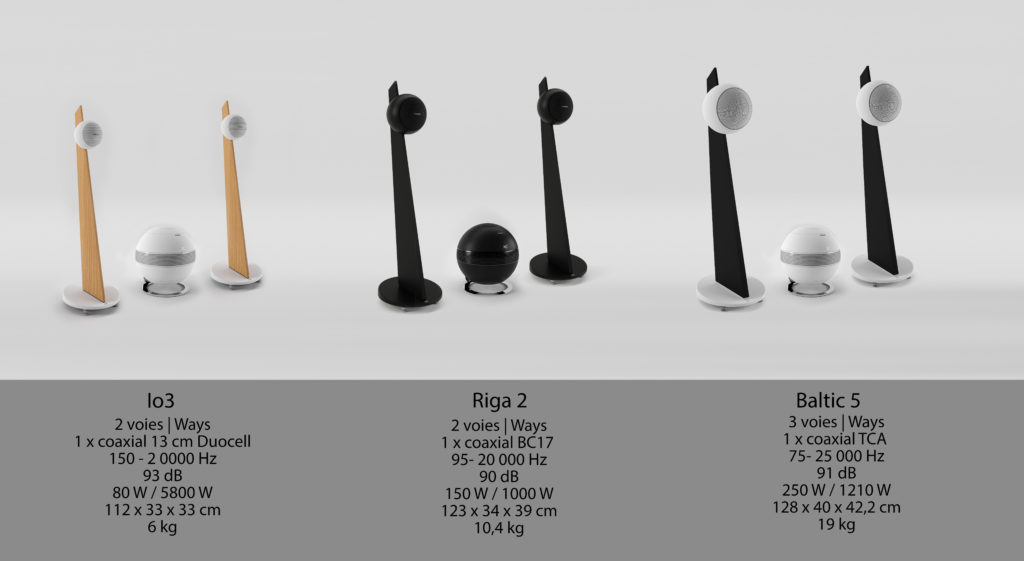 BALTIC 5: The only 3-way coaxial satellite loudspeaker on earth, Baltic, has, since its introduction, always offered the unique acoustic and musical qualities of a full range true point source. This fifth, redesigned version, is equipped with a triaxial TCA loudspeaker that will form an even more powerful and versatile portion of the pulsating sphere. Baltic 5 is manufactured by Cabasse in its workshops located in Brittany (northern France).
RIGA 2:

 

Available in a matt black or oak finish, Riga is an ultra-compact satellite speaker equipped with a 17cm coaxial driver set in a sphere half the size of its predecessor, the Baltic. The BC 17 driver will fully satisfy the acoustic demands of music and film enthusiasts and will aesthetically delight listeners with its discretion and elegance. It is manufactured by Cabasse in its workshops in Brittany.
IO3:

 

The brand's best-seller, this very compact and powerful lifestyle speaker benefits from a new design with its apparent Cabasse logo and a Silver or Black Chromium ring for a decorative integration in any interior. Other new features include a new mounting system for an optimized wall installation, a more practical base with a magnetic connection that allows the satellites to be placed in any position, and a perforated metal grill for greater transparency and better high-frequency response
For each of these satellite speakers, 4 variations are available:
Matt black stand with a matt black base.
Wood finish stand with a matt black base.
Matt black stand with a matt white base.
Wood finish stand with a matt white base.
Technical specifications of THE PEARL SUB:
– 100 dB mono 112 dB peak
– 14 – 180 Hz
– Woofer 25 cm HELD
– Amplification
Left channel: 300 W RMS / 600 W peak
Right channel : 300 W RMS / 600 W peak
Bass: 1000 W RMS / 2000 W peak
– Ethernet – WiFi – Bluetooth – USB
–  SPDIF Optical – RCA Analog
– MP3 – AAC -WMA – AIFF – FLAC – ALAC
– Automatic calibration
– DAC 768 kHz / 32 bits
– Hi-Res Multi-room
– 338 x 320 x 368 mm
-20 kg
– Black matt /White matt
AVAILABLE IN DECEMBER 2020
PRESS RELEASE : CABASSE – THE PEARL SUB