ORION MC170, a subwoofer for sound excellency in low frequency
The dynamic capabilities and efficiency of the Orion subwoofer offer sound excellence in low frequencies. The 360° downward vertical diffusion allows for discreet placement of the unit.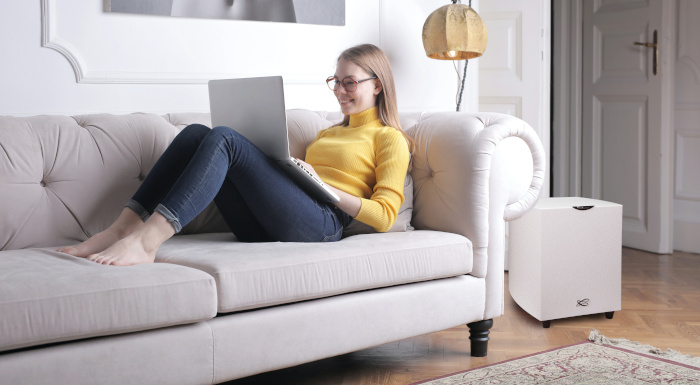 DOWNFIRING 360° vertical vent
The traditional frontal placement of the woofer is replaced by a vertical positioning for 360° downward firing. Noise is filtered out, the effects of internal standing waves are attenuated, the position of Santorin in relation to the walls is less problematic, and the bass reproduction is purer, deeper, lively and dynamic.
FEATURES AND SPECIFICATIONS
SOUND
Way
1
Drivers
1 x 21 cm 21MT
Crossover point
High pass 30 / 180 Hz
Frequency response
35– 200 Hz
Sensitivity 1W / 1 m
active model
Nominal impedance
active model
Minimal impedance
active model
Power handling
200 W
Peak power
400 W
DIMENSIONS
Dimensions
41.5 x 30.5 x 43 cm
Weight
14 kg
USER GUIDE
Find the nearest authorised reseller!